Thank you for supporting our work connecting communities through great books, stories, and ideas.
---
Become a Page-Turner!
Become a Page-Turner! Your monthly donation gives us a stable base of support. And you help us save time, banking fees, and paper.
By becoming a donor, you will not only receive exclusive donor benefits; you will help make arts and culture programming more accessible in Vancouver.
Monthly donations of $10 or more include a complimentary VWF membership. Click here to learn about Member Benefits, and thank you for being part of our member community.
Thank you to our donors and sponsors who make our work possible.
Charitable Registration #: 12260 5678 RR0001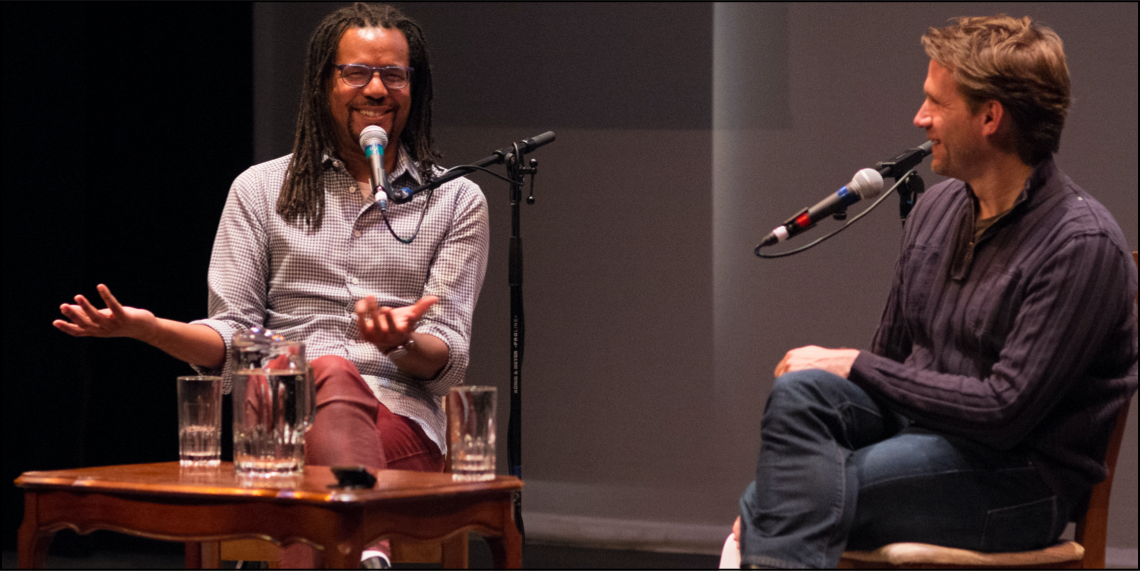 Your contribution helps us connect K-12 students with inspiring authors, supports our free spring Incite conversations, and ensures accessibility to one of the most celebrated literary festivals in the world. Thank you for supporting Vancouver—and the Writers Fest—as a leading cultural hub that celebrates diverse voices and engages in thought-provoking conversations.
The Festival
Support our flagship Festival in October, which brings more than 17,000 people to Granville Island for more than 100 events each year. Help us fly authors to Vancouver by donating your Aeroplan Miles.
Youth Educational Program
Support our educational programming that connects students from K-12 with celebrated writers from across the globe. One-third of the Festival is programmed to educate students through listening to writers with unique perspectives and inspirational messages. Help instill a life-long love of reading and writing in kids.
Incite
Support Incite, our free reading series in partnership with the Vancouver Public Library, where the Festival shares the power of the written word with all members of the community.
Post Script Society – Make Literature Your Legacy
"We don't need a list of rights and wrongs, tables of dos and don'ts; We need books, time and silence. Thou shalt not is soon forgotten, but Once upon a Time lasts forever."—Philip Pullman
If books have been a lifelong companion for you, consider supporting the Vancouver Writers Fest as part of your legacy giving.
Legacy gifts are incredibly valuable investments in the Festival, ensuring future Vancouver readers will continue to engage with authors, books, and ideas that transform our world, spark conversations, and foster a love of books and reading as a lifelong pursuit.
Please contact our Development Manager, Lauren Dembicky-Polivka at ldembicky@writersfest.bc.ca or Executive Director, Kaile Shilling, at kshilling@writersfest.bc.ca to discuss how to give a legacy gift—including living trusts, beneficiary designations, securities, endowment gifts, or planned giving. Our team will work with you and your financial planner to ensure all tax and membership benefits are in order.
Donation of Securities – Save More, Give More.
By donating shares and stocks, you are able to maximize your tax savings by minimizing any capital gains taxes, receiving a tax receipt for the full amount.
Simply complete our Securities Donation form (with your broker's assistance) and send to our agent, Odlum Brown, and we will do the rest.
Membership
Annual Membership: $40
When you click the Become a Member button below, you'll be taken to our Sumac membership portal.  Click the link that says, "Don't have an account? Create one" to set up your membership.
Be part of our community of passionate readers.
Members receive early access to tickets and Festival lineup announcements, mailed print copy of our Program Guide and digital copy of our Summer Reading List, as well as a 10% discount to our flagship Festival. Members are also eligible to vote at our Annual General Meeting (and have exclusive access to our famous AGM Book Sale).
And best of all—you become part of our expansive network of passionate readers.

Early access to Festival ticket sales

Invitation to exclusive member events

Festival Program Guide mailed to you

10% discount on all October Festival tickets

Summer Reading Guide PDF emailed to you

A vote at the VWF annual general meeting
Collectors Edition Benefactors ($10,000)
Moh Faris, Reema Faris, Ramona Chu & Yasmeen Strang in loving memory of Yulanda Faris
Classic Edition Benefactors ($5,000-$9,999)
Anonymous
Megan Abbott
Alexia Jones
Bonnie Mah
Sam Znaimer
Bestseller Benefactors ($2,500-$4,999)
Thomas Green
Carol McClelland
Amanda Ross & Neal McLennan
Special Edition Benefactors ($1,000-$2,499)
Anonymous
John Bell
Kelli Bodnar & Daryl Martini
Jude Coffin
Janice & Doug Dalzell
Sandy Garossino & Ravi Sidhoo
Leslie Hurtig
Sandy Jakab & Bob Lesperance
Natascha Kiernan
Joanie McEwan & Irwin Nathanson
Judy & James McFarlane
Harvey McKinnon
Ebie & Ian Pitfield
André & Brock Rowland
Donald Shumka
Marsha Sibthorpe
Shannon Taylor & Lorne Folick
Joan & Paul Whitney
David & Stephanie Williams
Limited Edition Friends ($500-$999)
Susan Adams
Cathleen Boyle
Jonathan Burke
Jeff Charpentier
Isobel Cole
Katherine Doyle
Martin Ferera
Diane Filer
Asha Fraser
Crissy George
Richard Johnston
Shirley Lew
Mary Robertson
Rob Sanders & Colleen MacMillan
Jennifer Sankey
Susan Van Blarcom
Holman Wang
Susan & John Webster
First Edition Benefactors ($250-$499)
Lauren Adey
Anonymous
Deborah Armour & Jim MacAulay
Barbra Arnold
Martha Baldwin
Birgit & Robert Bateman
Jo Baxendale
Hurriya Burney
Janie Chang
Jane Davidson
Margaret Debbane
Frances Dowdeswell
Anne Elliott
Sarah Ellis
Anne Fleming
Dale Flexman
Janet Fretter
Meg Gaily
Barbara Gelfant
Ian Gill
Zoe Grams
Karin Hartner
EA Doley Henderson
Caroline Hinterberger
Violet & Grant Hughes
Aislinn Hunter
Phyllis Kenney
Wendy Mackay
Fran Maclean
Robert McLean
Barbara Nelles
Eduardo Ottoni
Timothy Pezarro
Joseph Planta
Marion Poggemiller
Beverley Price
Susan & Lonnie Propas
Janet Prowse
William Richardson
Melanie Rupp
Jane Slemon
Diane Stuart
Shelagh Van Kempen
Mike Walker
Beverley Watt
Valerie White
Terry Whitehead
Jan Whitford
Pamela Whittall
Katherine Wreford
Ronald Wright
Patricia Young
New Edition Benefactors ($100-$249)
Barbara Adamo
Amy Adams
Valerie Alber
Janet Allwork
Anonymous
Sabine Arbuckle
Barry Auger
Nancy Barker
Gillian Beattie
Geertje Boschma
Valerie Boser
Avalon Bourne
Brian Brett
Carole Cameron
Deborah Campbell
Angela Champ
Marilyn & Sheldon Chandler
Jane Cherry
Susan Comay & Maurice Bloch
David Conlin
Lynn Copeland
Anne Marie Corrigan
Patricia Curtis
Jennifer Croll
Clare Crosthwait
Jill Davidson
Barbara Dawson
Carol Anne de Balinhard
Charlene De Faye
Leena Desai
Margaret Dickson
Mary Doherty
Susan Duncan
Sonja Embree
Kyla Epstein
Lynda Erickson
Tanya Fairweather
Anne Findlay-Shirras
Jane Flick
Cynthia Flood
William Gibson
Maryke Gilmore
Mary Gilzean
Linda Graham
Louise Hager
Mukhtar Haidar
Doreen Hartley
William Hay
Julia Hedley
Victoria Henderson
Margaret Hewlett
Tiffany Hilman
Stephanie Hollis
Richard Hopkins
Veda Hotel
Karen Howe
Leslie Hunt
Valerie Hunter
Gillian Hurtig
Heather Hyde
Laurence Johnston
Leslie Jones
Dr. Lorena Kanke
Bonnie Klein
Wesley Knapp
Brenda Kumar
Juliet Kwong
Fiona Tinwei Lam
Melanie Last
Alma Lee
Andrea Little
Lesley Llewellyn
Aileen Lord
Marlene Mackenzie
Linda MacKinley-Hay
Michael MacNeill
Judith MacPherson
Jeannette Madill
Meah Martin
Melody Mason
Alicia & Robert Matas
Lee Maxwell
Carol Mayer
Bev McDowell
Robyn McDowell
Angela Wendy McGinn
Tara McGuire
Kathy McInnis
Sharon McKibbon
Allan McMordie
Pam McPhail
Sandra Moe
Jennifer Munro
Cheryl Mutch
Carol Newson
Nelson Ng
Susin Nielsen
Alice Niwinski
Eoin O'Dwyer
Lucille Pacey
Talea Pecora
Meg Penafiel
Bernard Pinsky
Manon Poitras
Brian Porter
Diane Purvey
Barbara Quinn
Lee Rachar
Dorothy Randall
Rae Regan
Kathleen Rittenhouse
Nancy Roberts
Deborah Roitberg
Shirley Rudolph
Anita Salchert
Minna Schendlinger
Heinz Senger
Nisha Sikka
Veronica Singer
Helen Smith
Nicole Smith
Lynda Spratley
Sharon Street
Kaarina Talvila
Adrienne Tanner
Ronnie Tessler
Deborah Thomas
Camilla Tibbs
Deborah Tildesley
Shahin Virji
Claire Vogelhut
Ellen Volden
Olga Volkoff
Judi Walker
Linda Waverley
Jennifer Webb
Kelleen Wiseman
Marian Yaremy
Alma Lee Legacy Fund
In 2006, The Vancouver Writers Fest and several of our community supporters established an endowment fund to celebrate the accomplishments of Festival founder Alma Lee. Our $1 million dollar endowment fund at the Vancouver Foundation enables the Festival to continue to thrive. If you would like to contribute to the Alma Lee Legacy Fund, please visit the Vancouver Foundation.
Colin & Helen Harris
Jab Sidhoo
Yosef Wosk
The Vancouver Sun
Cynthia Woodward
Development Fund
Sandra Garossino
Sheahan & Gerald McGavin
Rudy & Patricia Noth
Megan Abbot
Douglas Coupland
Yulanda & Moh Faris
Anne & Tony Giardini
Scott Griffin
KMC Foundation
Caroline Lawrence
Bonnie Mah
Joanne & David McDonald
Tracey McVicar
Brenda & Michael O'Keefe
Ebie & Ian Pitfield
Rod & Laurie Scheuerman
Helen Shore
Yasmeen & Andrew Strang
Thomas Allen & Sons Ltd.
W.A.U. Nicoll Robertson
Charitable Foundation Trust
John Welson
Jan Whitford & Michael Stevenson