They can delight, inspire, provoke, comfort and unite—as do the authors, journalists and poets who wield them. At the Vancouver Writers Fest we encourage readers of all ages to explore the power of storytelling, and books, through our dozens of events with local and international writers.
Our activities include both year-round programming and our flagship, annual literary Festival: one of the largest and most prestigious in North America. Tens of thousands of readers visit the cultural hub of Granville Island and venues around Vancouver to connect with local and international authors during this week-long event.
Throughout the year we offer free and paid events with established and emerging authors, in addition to youth education opportunities.
Mission: We connect people to exceptional books, ideas and dialogue through year-round programming that ignites a passion for words and the world around us.
Vision: A world in which the transformative power of books and ideas is the foundation of an empathetic, inspired and just society.
Find out more about our programs below.

---
History of the Festival
The Festival was inaugurated in 1988 by founding Artistic Director Alma Lee. Artistic Directors have included Alma Lee, Hal Wake and Leslie Hurtig.
In its 33 year history, the Vancouver Writers Fest has presented multiple award-winning writers from Canada and across the world including: Zadie Smith, Margaret Atwood, David Mitchell, Madeleine Thien, Marlon James, Malcolm Gladwell, Roxane Gay, David Sedaris, Viet Thanh Nguyen, Esi Edugyan, Alice Munro, Salman Rushdie, Rachel Kushner, Kevin Kwan, Kate Atkinson, Ian McEwan, Thomas King, Naomi Klein, Ian Rankin, Marilynne Robinson, Chimamanda Ngozi Adichie and more.
When does the Festival happen?
The annual Festival happens in the third week of October. We also host a range of Special Events throughout the year, and a free reading series, Incite, in partnership with the Vancouver Public Library.
Are there events year-round?
Our Incite reading series runs twice monthly from January to June at the VPL Central Library. These events are free to the public. We also host Special Events throughout the year featuring acclaimed authors with newly released titles. The best way to hear about upcoming events is to subscribe to our free weekly e-newsletter, Books & Ideas, which includes information about upcoming events and links to interesting literary reviews and ideas.
Is the organization a registered charity?
Yes, our charitable registration number is 12260 5678 RR0001. If you make a cash donation to the Vancouver Writers Fest, we can issue a tax receipt. As our $40 membership comes with benefits such as discounts on tickets and at participating bookstores, that portion of your gift is not deductible.
How do I become a member?
Are you hiring?
Any open job postings will be made available in the Get Involved section. Thank you for your interest in working with us.
When is the Festival lineup announced each year?
We announce our October program to VWF members first in late August, and the first of our Incite events in early January. Special Events are announced when finalized, usually at least four weeks prior to the date of the event.
Where is the Festival?
The 2022 Festival will consist primarily of in-person events taking place on Granville Island in Vancouver. This year, a Digital Festival will follow in December.
How long are events? What are they like?
Most events are approximately 90 minutes unless otherwise noted. Sometimes solo events with one author are shorter, and events with an intermission are often slightly longer. Children's events are usually under one hour. Events take many forms: readings, panel discussions, performances or interviews. All events are directed at the book-reading public.
Why aren't there more practical "hands-on" courses or workshops offered for aspiring writers?
The focus of the VWF is on connecting writers with readers through interviews, performances, panel discussions and readings. Aspiring writers may wish to check out the Federation of BC Writers or look at many workshops offered by other organizations across the Lower Mainland.
Are there surcharges on tickets?
The ticket prices posted will include GST and a nominal processing fee. The ticket amount you see listed is the final amount you will pay.
Will books be available for sale? May I bring a copy of a book to be signed?
Most authors will be available to sign books after their event.
You can purchase Festival books from our official bookseller, Book Warehouse (a division of Black Bond Books), which also operates a Festival Bookstore on Granville Island during the Festival.
May I bring children to the events?
Children are welcome at our events. Our Youth events have suggested age ranges between grades K-12. Please note there may be content only suitable for adults at other events. We ask our audience to use their own discretion if bringing children.
What age groups are your events suitable for?
Our events are suitable for a wide range of ages, and older children will often enjoy events for adults, depending on the nature of conversation or reading. In addition to our events for adults, we also offer events for children as part of the Festival in October. The age/grade level for school groups for our daytime educational events will be indicated in the Festival Program Guide and online.
What is your inclusivity policy?
Are your events free?
Our in-person, Festival events are ticketed and are not free.
Pay What You Can pricing is available for most digital events (except for Book Club events, which include a copy of the book).
The Incite reading series is free, as are numerous additional events throughout the year. We are a registered not for profit and rely on ticket sales in addition to generous donations.
We offer discounted tickets to students, and free tickets to social service or community organizations that are impeded by the cost of the events. Email info[at]writersfest.bc.ca for information.
How do I volunteer?
Positions vary from year to year, with a wide variety of jobs that can be done during Festival week. For further information, please contact the Volunteer Manager Keely Langford at volunteer@writersfest.bc.ca.
I'm not a writer, can I still get involved?
Yes! You can be an audience member, a Member of the Festival (discounts on Festival event tickets and earlybird ticket buying privileges), or a Volunteer. Our events are for readers—whether you are also a writer or not.
Inclusivity and Accessibility
The Vancouver Writers Fest believes engaging with stories, authors, and ideas is an inclusive endeavor. Our stages shine a light on human experiences, challenge personal perspectives, and build empathy. Thus they should be accessible to all.
During Festival Week and throughout the year in our Incite and Book Club events, VWF strives to create a welcoming and accessible space for everyone to engage with ideas that can transform our world.
For more information on how to access courtesy seating, sliding scale tickets, school subsidies, or request ASL interpretation (two weeks before event date), please email info@writersfest.bc.ca

The Vancouver Writers Fest is proud to be a certified Living Wage Employer.
We strive to provide safe, inclusive, low-barrier experiences for patrons by:
Supporting inclusion for people of varying abilities
All venues are accessible to people using mobility aids.

Courtesy Seating offered for anyone with mobility challenges, physical disabilities, or chronic pain.

Hearing Support provided through ASL interpretation at select events throughout Festival Week, and on request at all live events.  Live captioning provided for digital events.
Ensuring inclusion for people of all financial capacities
Pay-What-You-Can options at Festival events.
Subsidized tickets for schools.
Reduced ticket prices for seniors and young people (under 30).
A full season of free events through our INCITE series in partnership with the Vancouver Public Library.
Fostering a sense of belonging and inclusion for all participants
Gender-neutral facilities at all venues.
Sensory sensitivity – we request all patrons limit the use of heavily scented perfumes and products.
We ensure we always have a real, live person to talk to (or buy tickets from) for those who don't have access to or patience with the internet.
Team
Year-Round Team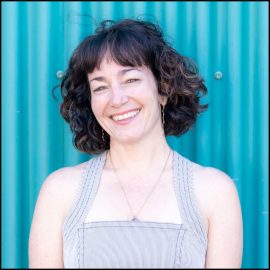 Leslie Hurtig
Artistic Director
Leslie has worked in a range of senior positions across the Canadian literary landscape for the last 30 years. Prior to becoming Artistic Director of the Vancouver Writers Fest she acted as a board director for the organisation for 16 years. She has held roles of sales representative, publicist and rights manager for some of North America's great publishers and bookstores.
In addition to curating year-round and Festival events, Leslie regularly moderates literary events, acts as juror for a number of prizes, and guest lectures on publishing and festivals at Simon Fraser University.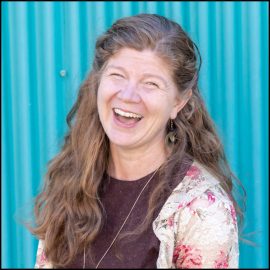 Kaile Shilling
Executive Director
Kaile has spent the last two decades working for nonprofits focused on supporting young people and the power of stories and creativity to foster change. She graduated from Harvard University, where she focused on the role of the arts as a means of expressing and shifting social values, and has a Master of Theological Studies from Loyola Marymount University.
She lives in Vancouver with her journalist husband and their two awesome little bookworms (aka kids)!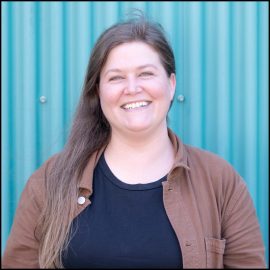 Chelsee Damen
Operations Manager
Chelsee has a philosophy BA from VIU. She founded the Nanaimo Fringe, where she was GM 2011-16. Chelsee then covered a series of leave replacements at Vancouver Fringe 2016-17 as Managing Director and Executive Director, before joining the Writers Fest in 2018. Her interests include neurodiversity, resilience, resurgence, music, and the way words bridge the gap.
Chelsee is a second generation Canadian and grew up in Calgary. She also studied child development, worked as a preschool educator, and spent four summers mentoring young feminists at the original Girls Rock Camp in Portland.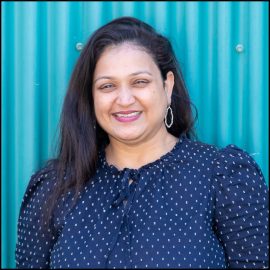 Leena Desai
Senior Education and Development Coordinator
Leena is a graduate of the Master of Publishing program at Simon Fraser University. She earned her degree in 2018. She has worked on magazines since 2011, with a two-year stint at Architectural Digest with Condé Nast India. Her work experience before that includes several film and television projects in her hometown of Mumbai.
Leena is a cinephile and devours the fantasy and sci-fi genre in both books and movies.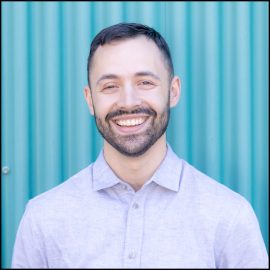 Matt Ros
Operations & Admin Coordinator
Matt has a BA in Computer Science and a minor in Italian Studies from Duke University. Before returning to his hometown here in Vancouver, he did three years of technical training in New York City, working in operations and software roles for two start-ups.
In good weather, Matt enjoys riding his commuter bike to get around town. He also likes to visit independent movie theatres, where he first started to realize the power of art, ideas, and storytelling.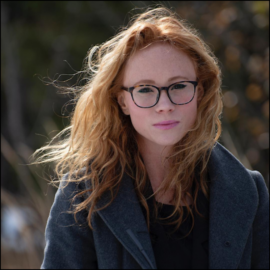 April Thompson
Senior Development Manager
April Thompson is an arts administrator, writer, and curator based in Vancouver, B.C. Most recently she served as Executive Director at Geist Magazine, and has worked across arts and culture institutions such as Cineworks Independent Filmmakers Society, The Banff Centre for Arts & Culture, and the Jewish Museums & Archives of B.C.
Her writing has been published by The Tahoma Literary Review, Torrey House Press, CMagazine, Canadian Art, The Capilano Review, and BlackFlash.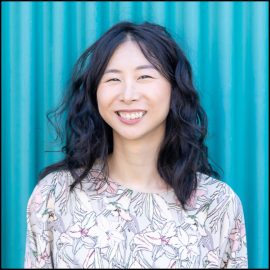 Joyce Wan
Marketing & Digital Production Coordinator
Joyce has a BA in English Literature from UBC, with a minor in human geography. After graduating, she taught English and worked as a freelance travel and culture writer for two years in Hokkaido, Japan. She has worked for the BC Alliance for Arts + Culture and served on the board of the Car Free Vancouver Society, overseeing the Vancouver Car Free Day festivals, where she developed a passion for arts festivals.
Joyce enjoys books, bike rides, travelling, and basically anything else that could be described as magical.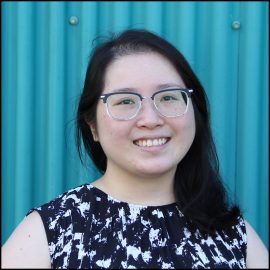 Sarah Wang
Programming Coordinator
Sarah has a BA in international relations and history of art, and a graduate certificate in museum studies. Having initially worked in government research in Canada and Europe, she found herself gravitating more toward the arts, working for the Vancouver Art Gallery and serving on the Board(s) of the Roedde House Museum, CARFAC BC, SEARA Fund and researching for museum institutions in the United States and South America.
She comes to the Vancouver Writers Fest as a "born again" reader of fiction, particularly literature in translation from Latin America and Central and Eastern Europe. Outside of work, her interests include eating charcuterie, watching boxing and making some of the best unintentionally lopsided ceramics in the city.
Team
Our Events and
Festival Team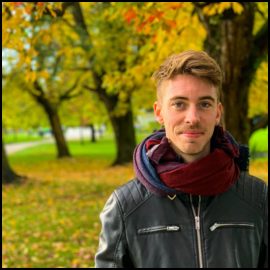 Ben Anton
Assistant Box Office Manager
Benjamin has a double bachelors in Media Studies and Cinema. Originally from France, he arrived in Vancouver seven years ago and has been working for local cultural organizations, managing box office, and coordinating theatres' development. At heart, he strives to help and democratize a fair, equal and easy access to culture and arts while ensuring both patrons' and artists' positive experience.
Ben is passionate about storytelling, Queer studies, ecofeminism and science fiction. He enjoys spending his free time walking in nature, carrying his own kind of "Essentials" in his backpack; a book, a water bottle, coffee, and an almond croissant.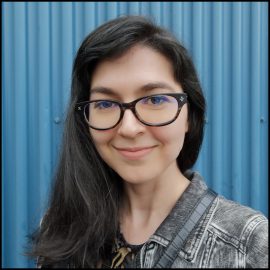 Mikaela Asfour
Assistant Volunteer Manager
Originally from Montreal, Mikaela holds an MFA in Creative Writing from UBC and a BA in Psychology from McGill University, with minors in English (Cultural Studies) and Behavioural Sciences. Her past work experience includes three years supporting the programming department of the Vancouver International Film Festival with their annual festival and year-round educational initiatives.
Mikaela's words have appeared in Room Magazine and Poetry Is Dead Magazine, and she was shortlisted for Geist's 2018 Erasure Poetry Contest. An appreciator of cinema, literary and genre fiction, graphic forms, and theatre, she has volunteered with various arts non-profits in Vancouver.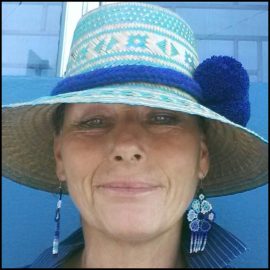 Elizabeth Glancy
Catering Manager
Elizabeth is a fixture in the cultural landscape of Vancouver, and has worked at virtually every one of the most remarkable festivals in the city. Elizabeth is well read and extremely well travelled, and has photographed flowers and art murals all over the world.
If you see her at a festival, you know that you are in the right place and that the event will be amazing.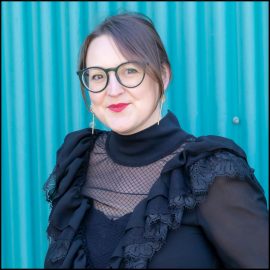 Zoe Grams
Marketing Consultant, ZG Stories
Zoe is Principal of the marketing agency ZG Stories. Following an MA in Philosophy, Zoe began her career at a trend-marketing agency in London, UK, before moving to Canada where she worked with some of Vancouver's top PR firms, followed by D&M Publishers.
She has conceived and executed marketing campaigns for award-winning authors, publishers and charities across North America and writes regularly for publications on both sides of the Atlantic. Zoe is former Co-Chair and Director of The KidSafe Project and a current Director of WISH Drop-In Centre Society. When she is not immersed in books, Zoe travels, walks, and seeks out new varieties of pungent cheese.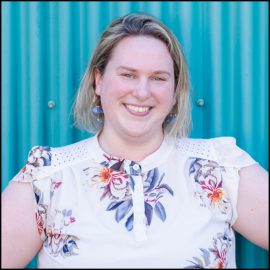 Ariel Hudnall
Festival Marketing and PR Manager, ZG Stories
Ariel holds a Masters of Publishing from Simon Fraser University. She has been a traveler for most of her life, born in the bayous of Louisiana and raised along the coast of California, before heading east for Asia.
During a six-year stint in Japan, Ariel worked extensively with award-winning culture magazine Kyoto Journal as a consultant and designer, helping the team navigate shifting publishing landscapes. She has also worked as a workshop facilitator, teaching authors how to build up their online presence, community manager and marketer for an independent self-publishing community and is currently also the Communications Manager at ZG Stories.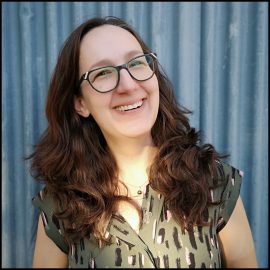 Keely Langford
Volunteer Manager
Keely is originally from the prairies, but found she's happiest next to the sea. She holds an BA (Hons) in Cognitive Science (which is to say, largely philosophy). Keely has worked for nonprofits and governments, launched rockets (small ones, in school fields), and helped conduct octopus research in the South Pacific. She met her partner while working for TIFF and has loved cultural festivals ever since.
Mostly Keely likes meeting and being around the many wonderful people she finds herself with. Keely also enjoys swimming in the ocean and lakes, running around the trails of the lower mainland, and riding her bike to delicious snack spots. She also buys more books than she can read, and watches more TV/movies than she intends too.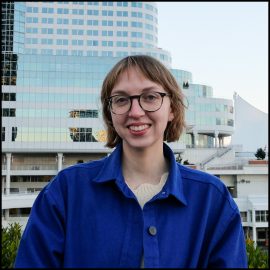 Ruth Ormiston
Festival Associate
Ruth is a second-year Master of Publishing student at Simon Fraser University, where their research focuses on increasing accessibility at literary festivals through an intersectional lens. Having previously worked as a museum programming assistant and a tour guide in their hometown of Winnipeg, Ruth is passionate about developing programs that are accessible, adaptable, and collaborative.
Ruth also holds an MA in English from the University of Victoria, where they specialized in 19th-century children's literature. When they're not making their way through their massive TBR list, Ruth enjoys attending concerts, knitting, and watching period films and TV shows.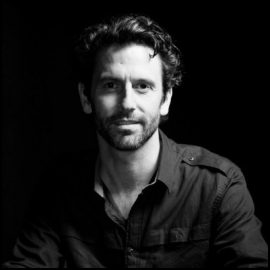 Eduardo Ottoni
Production Manager
Passionate about arts and culture, and building community through live events, Eduardo has over 25 years of experience in the production industry. It's no secret that the Writers Fest was the first festival in the city to hire him as a Production Manager way back in 2003, and he has worked with us ever since!
Is it his love for fiction, or the great crew and volunteers he gets to work with? All we know is that he calls the Writers Fest his family.
Team
Our Board
A statement from the Board of Directors
The Vancouver Writers Fest recognizes the systemic imbalances that exist and persist in the environments we create and work within. We recognize the ongoing work of members of our community, who work in the face of great barriers to right those imbalances, and we are committed to working together and in solidarity toward the goal of a more equitable and just environment for our authors, audiences, volunteers, staff, and communities. In pursuit of these goals, we commit to utilizing our resources, identifying our internal biases, and applying our varied privileges and skills with purpose. In this process, we commit to remaining open and accountable to our mistakes.
We remain grateful to the Musqueam, Squamish and Tsleil-Waututh people for their shared knowledge and guidance on these lands, as we attempt to move forward in a good way, fostering a world in which the transformative power of books and ideas is the foundation of an empathetic, inspired and just society on these unceded territories.
The Vancouver Writers Fest strives to create a welcoming space for everyone to engage with ideas that can transform our world. Safety, inclusion and acceptance are essential components of our Festival and our values.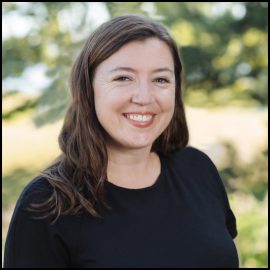 Alexia Jones
Chair
Alexia launched Alexia Jones HR/LR Consulting in 2019 where she develops partnerships and collaboration between managers, union representatives, employees and other stakeholders in order to strategize successful approaches to complex labour relations issues and implement creative solutions to workplace problems. Alexia has worked in HR/LR in both the public and private sectors for over 20 years.
Outside of work, Alexia is an avid fan of reading and in particular loves Canadian literature. The book club that Alexia belongs to is over 10 years strong and have often been heard to describe themselves as a wine club with a reading problem.
Kyla Epstein
Vice-Chair
Living on the unceded Indigenous land belonging to the Coast Salish peoples, including the territories of the xwməθkwəy̓əm (Musqueam), Skwxwú7mesh (Squamish), and səlilwətaɬ (Tsleil-Waututh) Nations, and working at the British Columbia Institute of Technology (BCIT) provides Kyla with opportunities to foster community through relationships built on trust, connection, accountability and shared values.
Kyla is an active volunteer having served on many boards and most recently was a member of the City of Vancouver Civic Asset Naming Committee, a Director with the BC Library Trustees Association (BCLTA), a past Chair of Vancouver Public Library, and has been a BCLTA library trustee governance trainer since 2018. Kyla currently serves on the board of the National Coalition for Dialogue & Deliberation, is an active member of the Parent Advisory Committee (PAC) for her child's school, and in 2017 she was selected to attend the Governor General's Canadian Leadership Conference (GGCLC).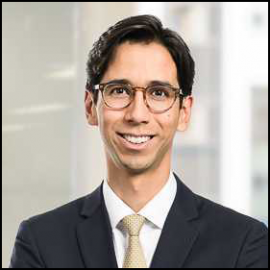 Robert McLean
Treasurer
As Vice President of Connor, Clark and Lunn Private Capital, Robert provides access to a comprehensive range of services to help build and protect wealth. Specializing in charitable giving strategies, he works with families, corporations and foundations to enhance their philanthropic legacy.
Robert is heavily involved with educating youth on the topics of financial literacy and fiscal responsibility. Through seminars, classroom presentations and mentorship opportunities, he looks to engage with students in classrooms and lecture halls around British Columbia.
Actively supporting local sports and charities, you can often find Robert at fundraisers and community events throughout the greater Vancouver area. Robert has a tendency towards reading non-fiction but occasionally dips into his wife's library of classical literature and modern fiction. He proudly founded the Vancouver Club's Literary Society.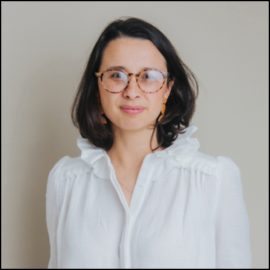 Michelle Blackwell
Michelle Blackwell is a marketing and communications leader with a passion for literature and the arts. As Director of Communications & Marketing at UBC Library, she is responsible for the overall strategic direction of communications and marketing for the University's library services, advising on issues, brand and reputation management.
Michelle spent almost a decade working in the Canadian book publishing industry with Simon & Schuster Canada and has served on several not-for-profit boards, including the Giller Light Bash in Toronto and Ballet BC Up in Vancouver. Living on the unceded territories of the xʷməθkʷəy̓əm(Musqueam), Sḵwx̱wú7mesh (Squamish), and Sel̓íl̓witulh (Tsleil-Waututh) Nations, she is committed to anti-racism, inclusive excellence and is excited about creating more opportunities for meaningful conversations through VWF.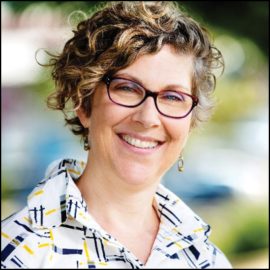 Allison Felker
Allison has been involved in the non-profit sector for over twenty years and is passionate about the role the sector can play in building engagement, equity, and community well-being. She has worked in the areas of leadership development, fund development and board governance through roles at the JIBC's Centre for Leadership, Vancouver Foundation, and Vantage Point.
Most recently, she was interim Executive Director at Vancity Community Foundation, where she led the team of twenty-five to establish the 312 Main Centre for Social and Economic Innovation and to renew the Foundation's strategic direction. Her board experience includes Mt. Pleasant Neighbourhood House, WISH Drop-in Society, and the Association of Fundraising Professionals Vancouver Chapter. Allison holds a Master of Education and a Bachelor of Social Work. When she's not reading some of the amazing authors featured at the Vancouver Writer's Festival, you can find her on her bike, in a garden, on a trail, or playing her ukulele with her partner, family and friends.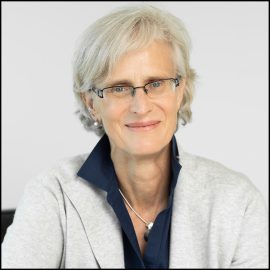 Karen Gilmore
Karen Gilmore (she/her) is a long-time attendee of the Festival and a firm believer in the transformative power of books and ideas. Karen brings substantial experience in corporate and social profit organizations at both management and Board levels. After four decades as a corporate lawyer, Karen is currently working with The Discovery Group, a boutique consulting firm dedicated to the social profit sector.
Previously, Karen founded and led the Technology Law Group at the Vancouver office of a national law firm, before moving to an in-house legal and operational role at a Canadian book publishing company. She was then VP Legal at a private equity firm, where she also led the creation of a public foundation and was instrumental in the creation of a social enterprise business. Karen has volunteered extensively in the social profit sector, including serving as Board Member and Board Chair of each of YWCA Metro Vancouver and YWCA Canada. Karen has received many awards for her years of service in both the community and the legal profession, including the BC Community Achievement Award.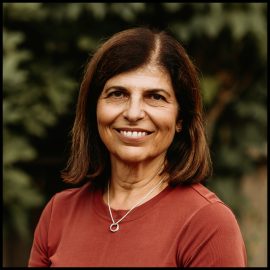 Julie Iannacone
Julie is an adjunct professor in the Master of Library and Information Studies program at the UBC School of Information. She is also self-employed as a leadership coach and consultant, focusing on ethical leadership, collaborative communication, and conflict management. She has over 30 years of experience in the public library sector, most recently as Director of Neighbourhood & Youth Services at Vancouver Public Library where she led services for children and teens, branch-based neighbourhood services, accessible services, and facilities development projects.
She believes that public libraries are champions for equity, intellectual freedom, and access and that they connect people with books, ideas, and each other. She is pleased to be on the Board of the Vancouver Writers Fest with its aligned Vision of "A world in which the transformative power of books and ideas is the foundation of an empathetic, inspired and just society."
Julie holds a Master of Library Science from the University of British Columbia. She is committed to lifelong learning and is excited about opportunities to promote diverse voices including those of xʷməθkʷəy̓əm (Musqueam), Sḵwx̱wú7mesh (Squamish), and səlilwətaɬ (Tsleil-Waututh) Nations and Urban Indigenous Peoples.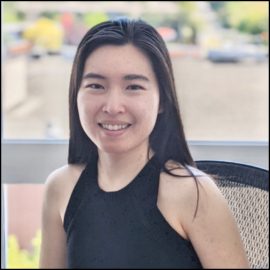 Luan Li
Luan Li is a Chartered Professional Accountant who continues to maintain her love for reading and writing. As someone who has both benefited from and participated in community programs, she understands the crucial role that arts programming and events plays in order to help communities thrive.
During her time articling at PricewaterhouseCoopers, she has performed various assurance services ranging from midsize private clients to large public companies, as well as NPOs, helping them navigate complex financial issues and preparing financial statements and reviews. At the same time, she completed the first draft of a novel in 2020 which was then shortlisted for the JCW Emerging Writer's Prize, given to an emerging writer of Asian-Canadian descent. She will be joining the Humber College for Writers in fall 2022 in order to further develop this draft and other writing projects. She has participated as a Youth Mentor in the Richmond Youth Media Program and continues to be passionate about creating opportunities for community engagement and fostering connections where writers and readers alike can thrive. During her free time, she enjoys running, hiking, and spending long afternoons in a local bookstore.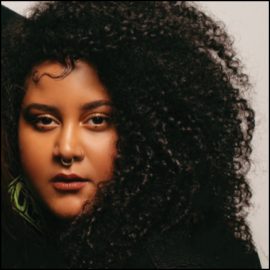 Krystal Paraboo
Krystal Paraboo (she/her) is an award-winning independent Curator, Art Historian, Writer, and Community Builder. She is currently a Public Art Planner with the City of Vancouver. Krystal's work has spanned within both public and private art institutions over the years, and has recently shifted to research in the public art realm transforming spaces through placemaking, bridging art and activism.
She specializes in: curatorial art projects, art education, research, fundraising, policy, events, communications, community building, art consulting, non-profit design and management, organizational development, and anti-racism training.
We love our volunteers!
Volunteers are the backbone of Festival Week, and we're proud to have so many returning volunteers each year.
Our volunteers help with author hospitality, box office, raffle, book sales, photography, social media amplification, copying, printing, and Program Guide distribution. We provide light snacks, good cheer, and a chance to hang with some of the most exciting thinkers on the planet.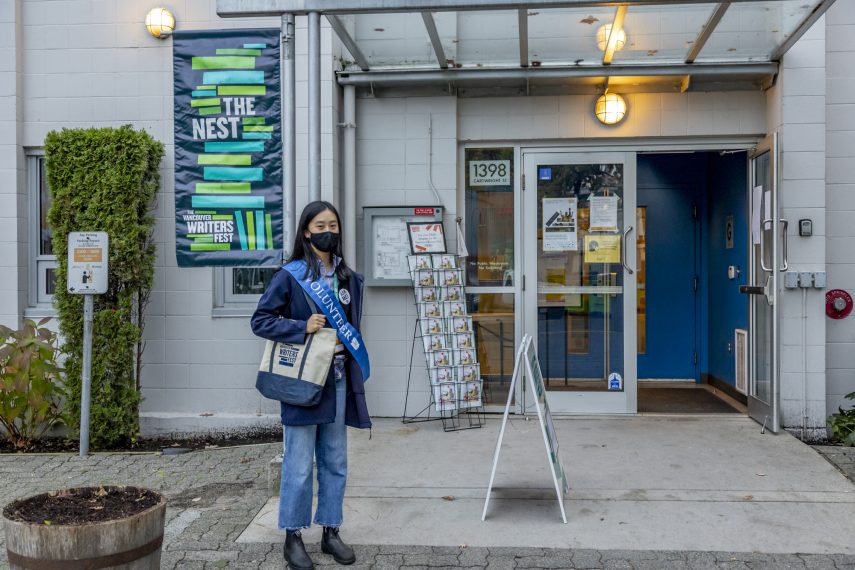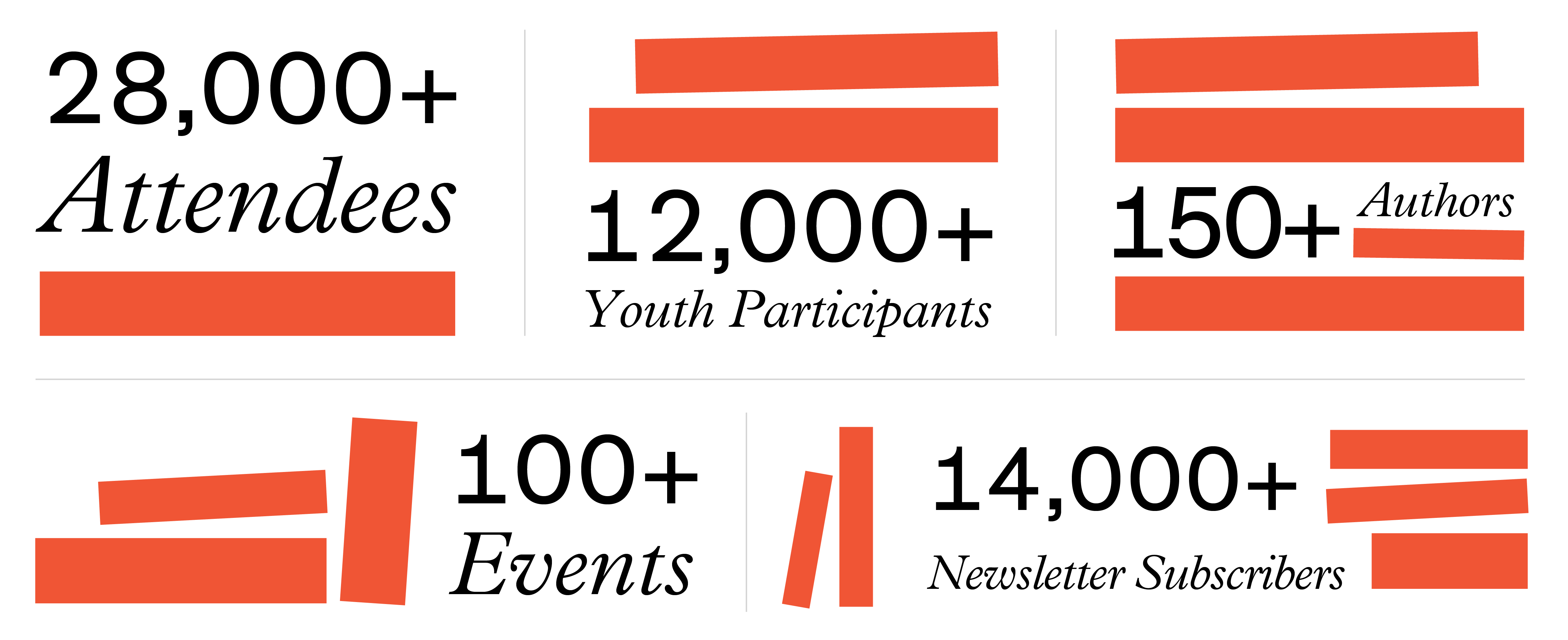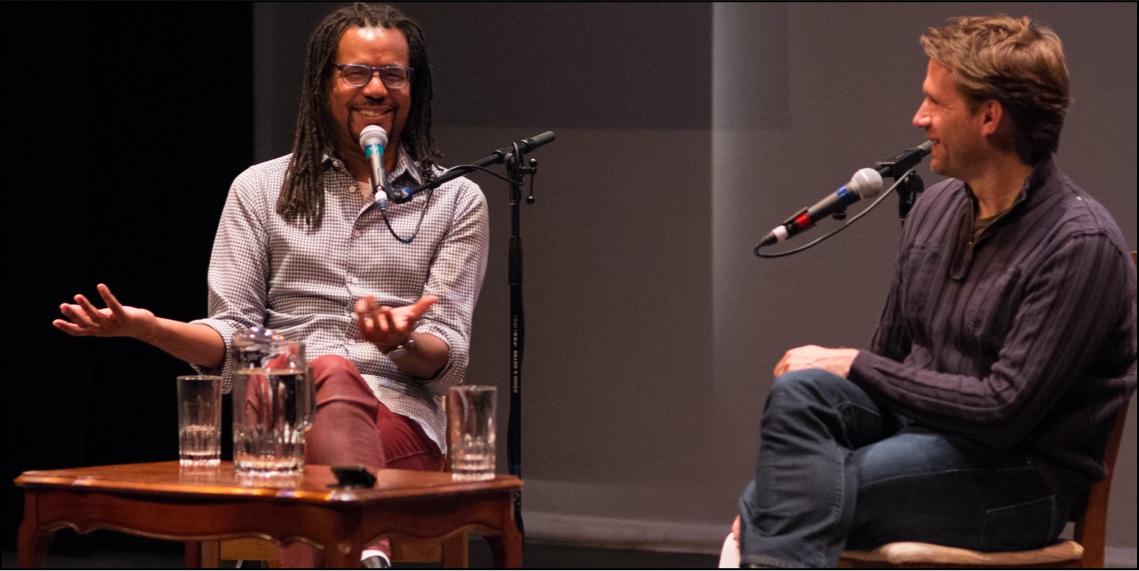 The Festival
Our flagship October
Festival on Granville Island.
The highlight of our year, our week-long Festival welcomes more than 20,000 attendees to Granville Island and thousands more from around the globe through our online streaming platforms. Featuring 100+ events at venues of all sizes, our events are highly curated, offering audiences the opportunity to listen to world-leading writers in conversation about a range of themes.
In addition to curation by our Artistic Director, the Festival welcomes a Guest Curator and Spoken Word Curator to envision multiple events each year.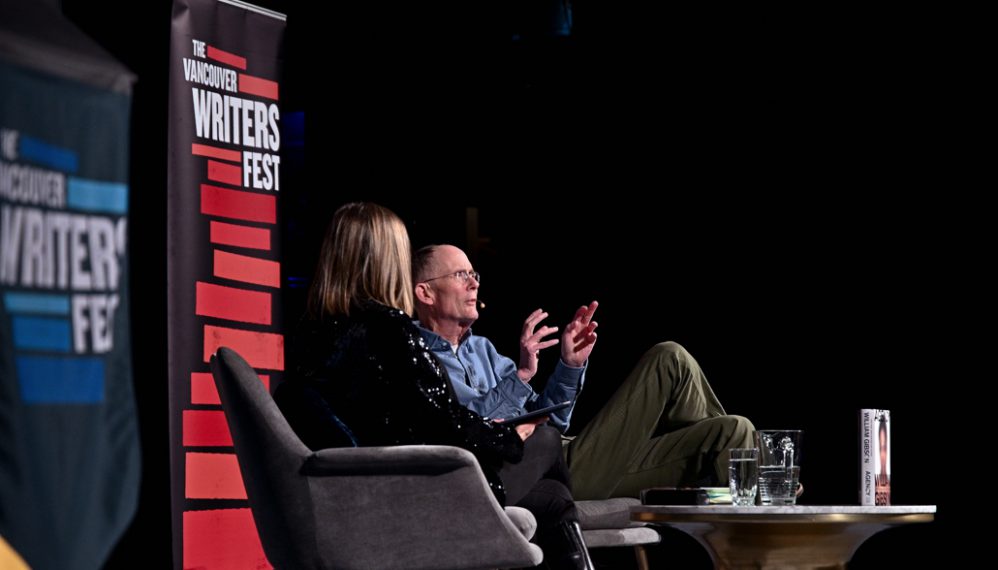 Special Events
Year-round events for celebrated new releases.
During our Special Events, we host some of the most celebrated names in the Canadian and international literary community. These sold-out events take place on Vancouver's premiere stages, igniting conversation and book buying, or virtually with a book and ticket model when social distancing is required.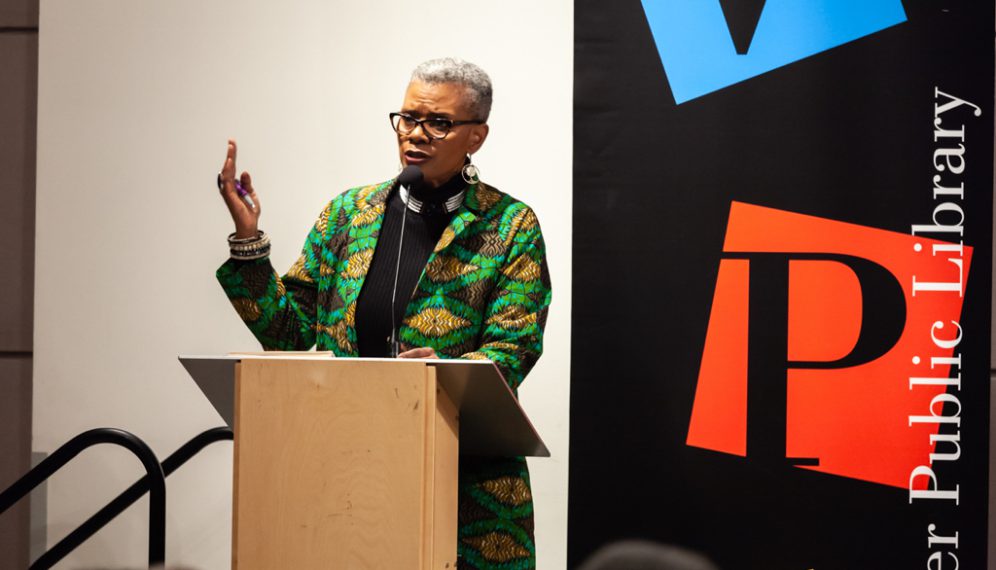 Incite
Free springtime events in collaboration with Vancouver Public Library.
Our free reading series offers conversations between authors every two weeks from January to June, presented in partnership with the Vancouver Public Library and with support from the Vancouver Downtown Business Improvement Association. Guests include emerging authors and established writers, speaking with a moderator and each other about multiple themes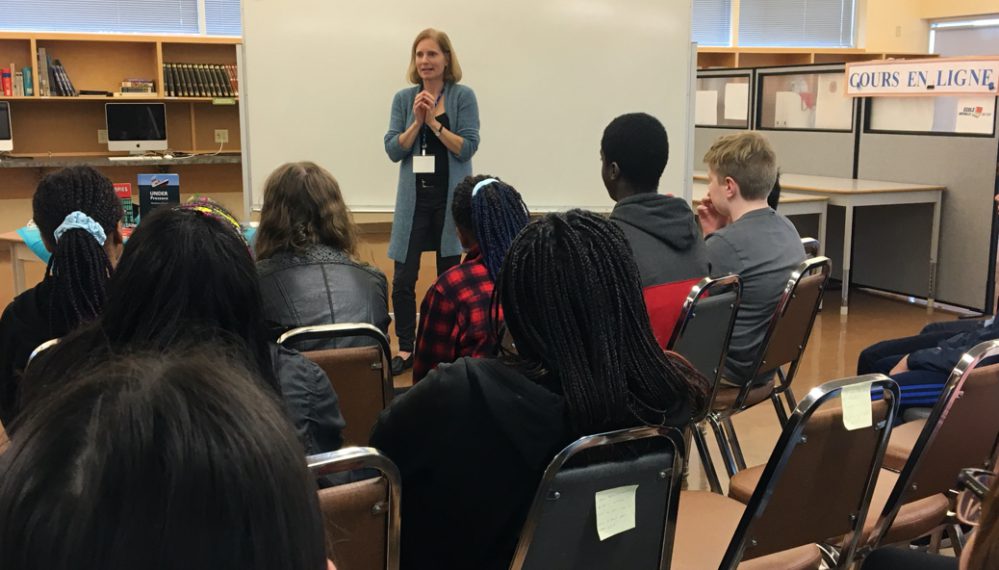 Youth
Books, events and resources to spark students' imaginations.
Our Youth Education Programming (YEP) connects students with celebrated writers from across the globe through a series of initiatives. These include our flagship Festival events designed specifically for young people, teachers, schools and student groups, in addition to our Writers in the Classroom program and Youth Writing contest. Discover more about YEP here.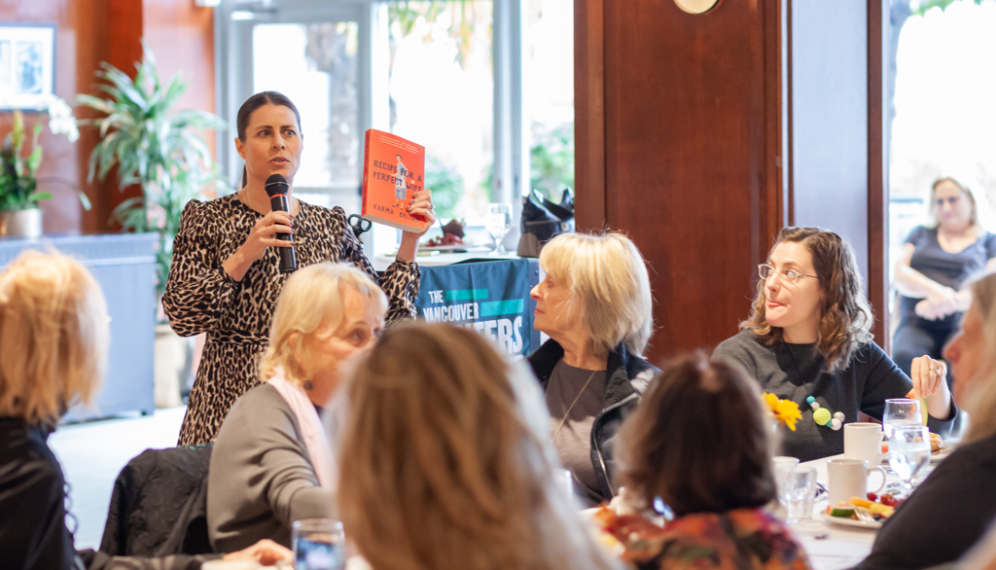 Books & Brunch
Sumptuous food, views and ideas on Granville Island.
Books & Brunch combines author conversation with a delicious brunch at Dockside Restaurant in the boutique Granville Island Hotel. These spring and summer events regularly sell out, and have previously featured authors Shelley Wood (The Quintland Sisters), Terry Fallis (The Albatross) and Karma Brown (Recipe for a Perfect Wife).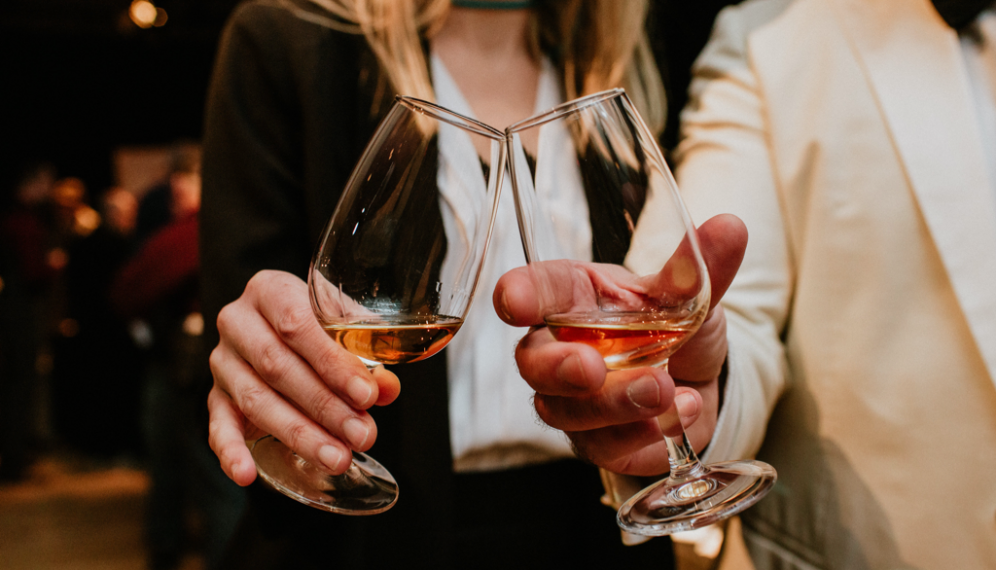 Whisky & Words
Our annual whisky tasting fundraiser
During weekend-long events, patrons can attend Masterclasses, enjoy world class whisky and favourite local food pairings. Our primary fundraising event has been a vital source of revenue to support our Youth Education Program, connecting over 7,000 BC kids to celebrated writers, empowering them to see the impact of books and words on enhancing our community.
Visit whiskywords.ca for more information.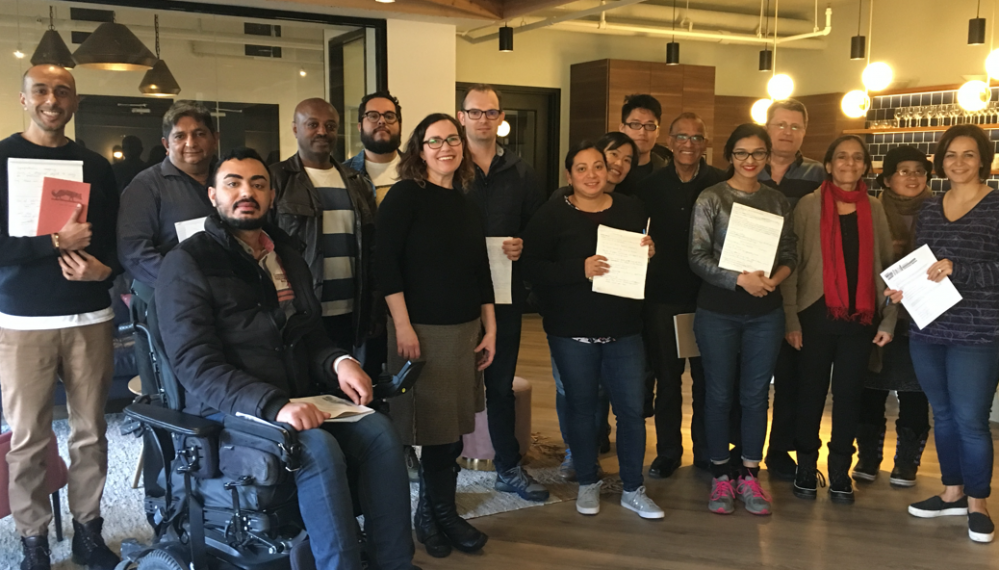 My Roots
A writing workshop for new immigrants to explore their craft
Our annual, two-day writing workshop encourages immigrants to develop and share their stories of place, as mentored by an award-winning writer and teacher. Through a mix of writing exercises and easy lessons on how to write well, the workshop encouraged writers at all levels to think imaginatively about those places and landscapes called 'home'.