2022 Vancouver Writers Fest
October 17 – 23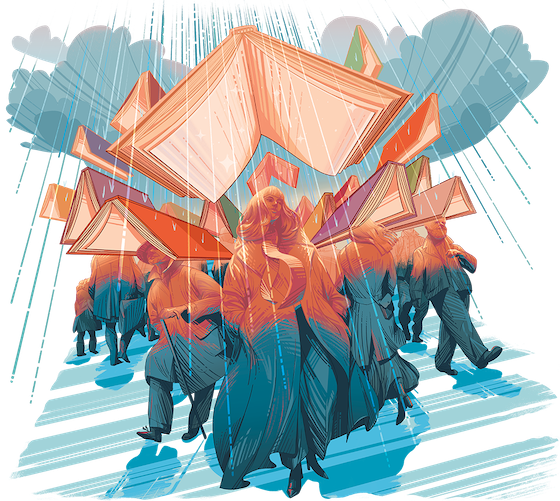 Welcome to the 35th Annual Vancouver Writers Fest! 
After two roller coaster years, we're thrilled to be celebrating a noteworthy anniversary and welcoming you back to Granville Island from October 17–23. This year we're proud to be hosting an almost fully in-person Festival, and for the first time, offering all our youth events both on-stage and via livestream. Click here for additional information for teachers.
Omar El Akkad, journalist and 2021 Scotiabank Giller Prize winner, serves as our 2022 Guest Curator. Working closely with our programming team, Omar curated six events with a wide range of authors from around the world to join us here in conversations on home, identity, and storytelling. We're also happy to welcome back Jillian Christmas as our Spoken Word Curator and Sally Zori as our Musical Director for the Literary Cabaret.
The 2022 Festival features 80 events, including discussions about the state of modern journalism, the loss of reproductive rights for women, and a conversation about the rise of Indigenous storytelling around the world, alongside celebrations of debut novels, an ode to 80s lyrics as poems, bestselling festival favourites, and more.
2022 Festival
Event Updates
While we do our best to confirm event details before our Program Guide goes to print, the Festival lineup is a living, shifting thing of beauty. Check individual event pages for the most recent information. We'll collect major updates here.
49: The City of Vancouver Book Awards Ceremony: Tickets for this event were incorrectly listed in our Program Guide as $25. This event is actually FREE!
43: A Gallant Day: The Great Coincidence of August 11: Ivan Coyote, originally scheduled to join this event virtually, will attend in person. (We love these sorts of changes!)
34: YA Stars: Coming of Ages: Heather Smith is regrettably no longer able to join this year's Festival.
23: An Evening with Wayne Johnston: The venue for this event has changed to The Revue Stage.
24: Freeman's Spotlight, featuring Tess Gunty: The venue for this event has changed to The NEST.
55: In the Heart of Montreal: Fiction from La Belle Province: In case you missed it, Xue Yiwei is regrettably no longer able to join the Festival. Heather O'Neill, author of When We Lost Our Heads, will join this event!
42: Don't You Want Me, Baby?: Authors Do 80s Lyrics: We're thrilled to announce the lineup for this event, hosted by Elamin Abdelmahmoud: Heather O'Neill, Omar El Akkad, João Reis, Brendan McLeod, Kevin Sylvester, Marsha Lederman, Iain Reid, Thomas Olde Heuvelt, Kern Carter,  David A. Robertson, Tess Gunty, Natalia Garcia Freire
25: UBC Creative Writing: We're delighted to reveal that Taylor Brown-Evans, Nalo Hopkinson, Tariq Hussain, Bronwen Tate, and Mallory Tater from UBC Creative Writing's illustrious department will join this event to share their writing tips.