My Roots: Immigrant Ghost Stories
Saturday, May 14, 1-5pm at Suite Genius,
225 West 8th Avenue, Second Floor, Vancouver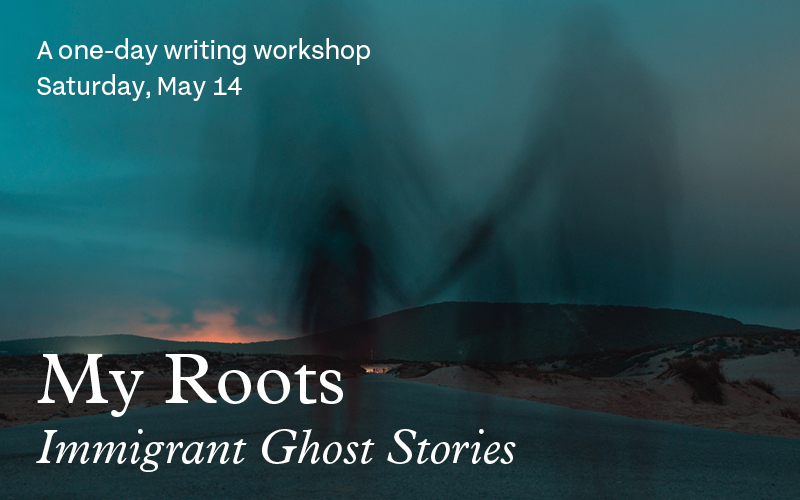 Thank you for your interest in My Roots! Applications are now closed for the 2022 workshop.
The Vancouver Writers Fest's annual one-day writing workshop for immigrants, My Roots, returns this May, led by esteemed local author Lindsay Wong.
"The angel baby doesn't look like a ghost. She doesn't float and she isn't pale and she doesn't wear a white dress. She's half rotted away, and she doesn't talk. The first time she appeared, I thought it was a nightmare and tried to wake up. When I couldn't do it and I started to realize she was real, I screamed and cried and pulled the sheet over my head, my eyes squeezed tight and my hands over my ears so I couldn't hear her—at that point I didn't know she was mute."

—from "Angelita Unearthed," in The Dangers Of Smoking In Bed, by Mariana Enriquez
When we leave our homeland for a new one, can the ghosts of our past follow us? Is it possible for emotional and physical ghosts to cross oceans and continents to haunt us? Are we safe from family members, intergenerational trauma, and monstrous secrets?
In this free workshop of mini-lectures and short writing exercises, participants will work with Canada Reads finalist Lindsay Wong (The Woo-Woo, Arsenal Pulp Press) to create "ghost stories" that examine leaving and finding home, as well as the risks associated with diaspora and truth-telling. Learn how to start writing when you're stuck and draw on personal memory to craft compelling nonfiction or fiction. The "ghosts" can be real or metaphorical, fact or fiction, cultural or family mythology.
Participants will be invited to share their work out loud with the group and leave with a piece of writing that they can publish in the VWF newsletter.
All levels of writers are welcome. My Roots is only open to new or recent immigrants to Canada. As spaces are limited, registration doesn't guarantee attendance. We will email you if you are confirmed to attend.
My Roots is presented thanks to the generous support of Robin Pascoe and Rodney Briggs.
My Roots Application
Application deadline: April 25, 2022
Thank you for your interest in My Roots! Applications are now closed for the 2022 workshop.