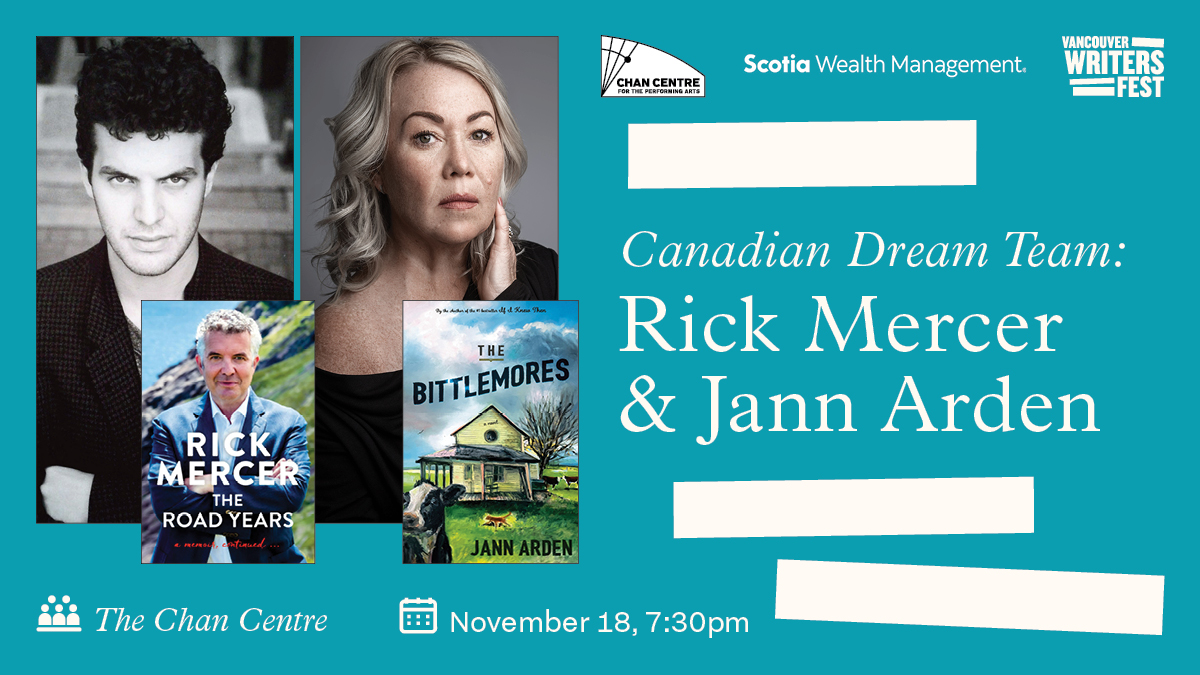 If you run into issues while purchasing your tickets, please contact the Chan Centre box office directly.
The Chan Centre Box Office
Hours: 12–4pm Tue–Fri
Email: chan.tickets@ubc.ca
Phone: (604) 822-2697
---
Presented in partnership with Scotia Wealth Management and the Chan Centre for the Performing Arts.
Tickets to this extra special event include a copy of both The Road Years AND The Bittlemores! What a rare opportunity to pick up signed copies of both books, and hear these two friends in conversation once again.
For years, viewers across the country tuned into the The Rick Mercer Report to spend their evenings with Rick Mercer and Jann Arden, one of his favourite recurring guests. Relive the laughter, antics, and camaraderie at this Vancouver Writers Fest Special Event, where Rick and Jann will reunite to toast each other on the publication of each of their new books. 
Their first meeting in Jann's hometown of Calgary ignited a friendship that would take the two 1,168 feet above the ground atop the CN Tower EdgeWalk; ziplining at Canada Olympic Park; and bull-riding at a Calgarian rodeo—all with an amused audience watching. Their mutual adoration is rivaled only by their legendary banter, and there will be plenty of both in this entertaining conversation.  
Both of these icons have published numerous books, alongside their dizzying lists of other accomplishments. Mercer's memoir, Talking to Canadians, was an instant national bestseller and left readers wanting more. The Road Years: A Memoir, Continued… picks up the story with the greenlighting of what would become the Rick Mercer Report, and follows him coast to coast to coast in search of the best stories from everyday Canadians.
Multi-platinum musician Jann Arden's bestselling nonfiction books include Feeding My Mother and If I Knew Then. Now, she's releasing her anticipated debut novel, The Bittlemores. A rural fairytale, a coming-of-age story, and a prairie mystery all-in-one, The Bittlemores is saturated with Arden's observations of the world she grew up in, and her deep connection to the animals we exploit.