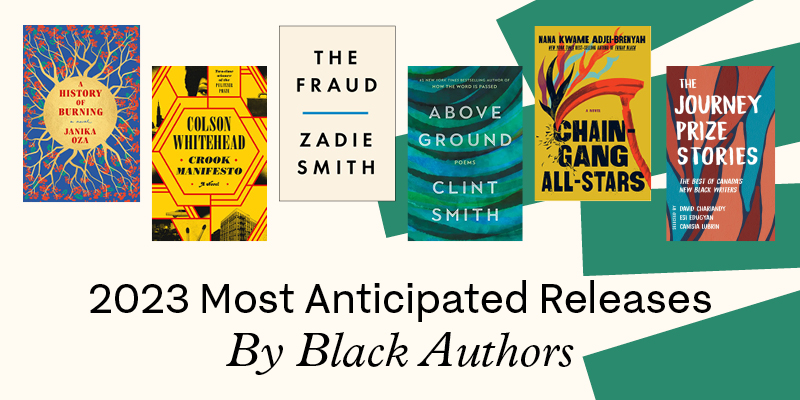 We delight in reading and sharing exceptional books by Black authors, all year round. For Black History Month, here's a list of just a handful of the new releases that we're eagerly awaiting in 2023!
You might even be seeing a few of these authors at our Festival this year, so get a head start and pre-order these fine books now:
---
A History of Burning by Janika Oza
An exhilarating and profoundly moving debut novel spanning India, Uganda, England, and Canada, about how one act of survival reverberates across four generations of a family and their search for a place of their own. Named a most anticipated book of 2023 by the Toronto Star, the Globe and Mail, OprahDaily, and Goodreads.
Crook Manifesto by Colson Whitehead
Two-time Pulitzer Prize winning author and VWF Book Club alumnus Colson Whitehead continues his Harlem saga in a powerful and hugely-entertaining novel that summons 1970s New York in all its seedy glory. Whitehead's kaleidoscopic portrait of Harlem is sure to stand as one of the all-time great evocations of a place and a time.
The Fraud by Zadie Smith
From acclaimed and bestselling novelist Zadie Smith, a kaleidoscopic work of historical fiction set against the legal trial that divided Victorian England, about who deserves to tell their story—and about who deserves to be believed. Based on real historical events, this is a dazzling new novel from the author of White Teeth and On Beauty. 
Above Ground by Clint Smith
A remarkable poetry collection from Clint Smith, the #1 New York Times bestselling and National Book Critics Circle award-winning author of How the Word Is Passed. Smith's vibrant and compelling new collection traverses the vast emotional terrain of fatherhood, and explores how becoming a parent has recalibrated his sense of the world. Above Ground wrestles with how we hold wonder and despair in the same hands.
Chain Gang All Stars by Nana Kwame Adjei-Brenyah
The explosive, hotly-anticipated debut novel from the New York Times-bestselling author of Friday Black, about two top women gladiators fighting for their freedom within a depraved private prison system not so far-removed from America's own. This is a clear-eyed reckoning with what freedom really means from a "new and necessary American voice" (Tommy Orange, The New York Times Book Review).
The Journey Prize Stories 33: The Best of Canada's New Black Writers selected by David Chariandy, Esi Edugyan and Canisia Lubrin
For over thirty years, The Journey Prize Stories has consistently introduced readers to the next generation of great Canadian writers. The 33rd edition of Canada's most prestigious annual fiction anthology proudly continues this tradition by celebrating the best emerging Black writers in the country.