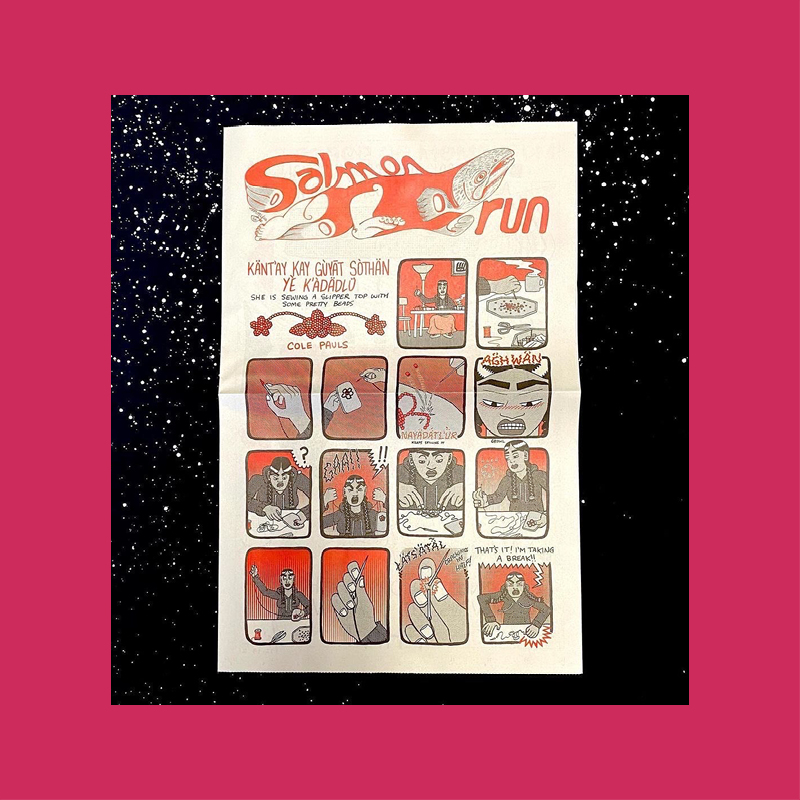 In mid-May, I attended the Vancouver Comic Arts Festival at Roundhouse in Yaletown. Until this year, I had never read a graphic novel before being introduced to Redbone: The True Story of a Native American Rock Band (by Christian Staebler and Sonia Paoloni, illustrated by Thibault Balahy) for the Contemporary Art Gallery's CAG Reads session led by Cole Pauls. It was a great read, mostly because the artwork encouraged absorbing the story through non-linear graphic placements, but also because, as with any book about music, it's delightful to be able to contextualize the songs and song-writing process behind a 4-minute track.
Cole Pauls joined us in the spring for a Writers in the Classroom presentation on his books Dakwäkãda Warriors and Pizza Punks. I had read Pizza Punks and felt that this delectable wheel of fortune was given a proper ode in Pauls's strips, not only of its myriad of forms and compositions, but also in what I would call its user friendliness. Ever struggle with which end of the triangle to chomp down on first? What about its shapeshifting abilities, with its signature flop and splat dance moves? Or perhaps you are one of those selfless missionaries, jumping at the chance to proselytize the gospel of the pineapple 'za?
Pauls has a third graphic title, Kwändǖr, publishing this fall with Conundrum Press. His approach to graphic storytelling is rooted in intergenerational methods of learning and community-building, through a commitment to learning the ways of his peoples and Elders while collaborating with his peers. With these teachings, Pauls is able to make space for both erudite observations of his Champagne and Aishihik First Nations and Tahltan heritage, but also the humour of late millennial-early Gen Z absurdities.
During his presentation, Pauls introduced the class to the then forthcoming collaborative publication Salmon Run that would be available at VanCAF in May. Spanning 12 pages in newspaper format, Salmon Run features the graphic works of Pauls with Michael Nicoll Yahgulanaas, Eliot White-Hill (Kwulasultun), Gord Hill, Atheana Picha, Bailey Macabre, Stankdaddy, Whess Harman, Karlene Harvey, Maya McKibbin, Ocean Hyland, TJ Felix. I would not recommend reading these works mediated through a screen because of the finer details that would be missed. The physical copy had around a 10,000-print run and was generously provided to the attendees of VanCAF. I am not certain that remaining copies would be available through the organizers of VanCAF or Lucky's Books and Comics, but I am certain this is something that should be collected as its contributors have and will undoubtedly influence the art, illustration, and comics scenes, and taught as it presents not only Indigenous knowledge and creative production, but also, most critically, a vital outlook of Indigenous futures and resurgence.
What I reflected most on is the concept of "momentum". In Gord Hill's sheet, he illustrated the teachings of the ancient Chinese philosopher Sun Tzu, whose military strategies discussed victory as a function of momentum. In today's society what does it mean to organize, to display courage, many times against mainstream currents and dominant narratives, in order to build and then use momentum? What is that tipping point, the critical mass if you will, to maintain this resistance within colonialism's inertia?
They are perennial questions, are they not? June is National Indigenous History Month and I hope that the voices, teachings, and work on Reconciliation and centering Indigenous peoples and their needs and worldviews are emphasized this month, as it should be in all months.
— Sarah Wang, Programming Coordinator