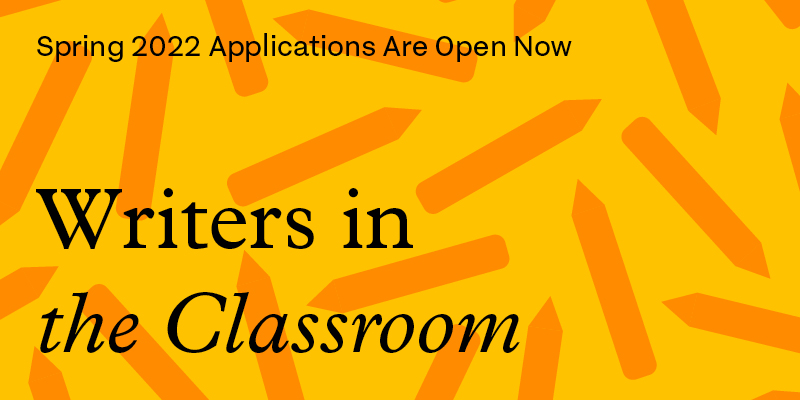 Our popular Writers in the Classroom program returns this spring with 13 authors and 14 presentations. Acclaimed authors such as Lawrence Hill, Vancouvers Poet Laureate Fiona Lam, Philippa Dowding, Susan Juby, Eric and Terry Fan, and more, are available to meet students!
Applications are open now. Click here to see the list of authors and apply, and read below for the answers to all your questions about Writers in the Classroom.
What is Writers in the Classroom?
As the name suggests, Writers in the Classroom (WITC) is a program in which the Vancouver Writers Fest arranges for an author to meet students in their classrooms. Authors talk about their most recent book and offer students advice on creative writing, reading, illustrations, publishing, and more. Students get to interact with authors and have some of their burning questions answered by them.
How do you select an author for this program?
We select an author who has a new book coming out and whose work connects to BC Curriculum's Big Ideas and Competencies for grades K to 12. Books by our authors connect directly to what is covered in the curriculum, in subjects such as English Language Arts, Social Studies, Social Justice, First Peoples Literary Studies, Contemporary Indigenous Studies, Career Life Education, Physical and Health Education, and more.
How often is this program run?
WITC is run twice a year, in spring and fall. The spring events typically take place from April to June and the fall events, from October to December.
How does the program work?
We announce our spring and fall WITC offerings via email, to everyone subscribed to our Education Outreach emailing list. If you haven't subscribed yet, please click here. Teachers have a deadline of up to three weeks to send us their applications. After the deadline, we match authors to schools. We give preference to schools that haven't yet had a chance to host an author or are an in-need school. Once the schools are selected, we e-introduce the authors to the teachers and they discuss the presentation and schedule a date for the event.
Do teachers have a say in the content of the WITC event?
We like to foster an atmosphere of collaboration. Teachers are encouraged to give more information about their students to the author and specify if they want the author to touch upon a particular topic in their presentation. If the request falls within the realm of the author's work and expertise, more often than not, they are happy to accommodate such requests.
Is WITC offered to schools only?
We offer this program mainly to schools, but we are also open to offering it to Indigenous organizations working with youth, community organizations working with in-need and under-served students, homeschooling co-ops, and more.

How much does a school need to pay for an author visit?
Thanks to the support of the Government of British Columbia and our other sponsors and donors, WITC events are offered free of cost to schools.
How many WITC events have you done?
Since 2006, we have done over 300 WITC events in over a hundred schools and met thousands of students.
Are WITC events digital or in-person?
Since March 2020, WITC events have primarily been virtual, but for the first time after two years, we are now offering some in-person WITC events. Three of the 13 authors in our spring lineup are open to making in-person school visits.
How long does each WITC event last and how many students can be present for one event?
Each WITC event lasts 60 to 90 minutes. For a high-school event, we request that no more than 60-70 students are present and for an elementary school event, no more than 90-100 students. This is so that the author can be heard by everybody and enough students get the chance to ask a question to the author.
Can a teacher request an author who is not included in the lineup?
No, unfortunately, we can only facilitate events with authors participating in the current WITC installment.
Can a teacher have multiple WITC events with an author?
We can offer only one author visit per class per installment. If a teacher wants the author to meet their students more than once, they can write to the author's publicist for further discussion.
Is this program offered to Vancouver schools only?
WITC is offered to all Metro Vancouver schools. Due to the virtual nature of WITC since 2020, we have even been able to do events with schools in Kitimat, Campbell River, Gibsons, and other places far from Vancouver and we hope to continue to do so, but we cannot offer this event to schools outside BC.
How can I apply for the current installment of WITC?
All details about the authors participating in the spring 2022 installment of WITC are here. Please read each author's bio for details on whether they're meeting students in-person or online. The deadline for applications is March 04, 2022. Please apply soon!
Have questions? Our Senior Education and Development Coordinator, Leena Desai, would be happy to help. You can email her at ldesai@writersfest.bc.ca.